I am feeling so much gratitude right now I could burst!
A week ago today my kids were playing with their light savors and 'BOOM' one hit Jordan right in the mouth. A baby tooth, but that is not suppose to come out until he is around SEVEN years old, is discolored and loose. I told Jordan, "DON'T TOUCH IT!" (thinking augh, it will tighten back up and be finnnnnneeeeee, right?) Saturday it falls out! I was sad but didn't think to much of it, called a very wise friend, and half nonchanlant told her about it and she said, "mmmmm….you better get him in for an x-ray and make sure that root came with the tooth." This is number four so I don't get too excited about much when it comes to this sort of thing, but it worked out to go see doctor on Monday at 1:30, sure no problem. Told Jor, "we'll be fast as lightning, a picture and out the door we go for some ice cream for being soooooo good and sitting still for that picture."
TWO HOURS LATER….3:30 we walk out with three stitches, a doctor sweating trying to extract this root from my baby, me trying to hold back tears, as I'm trying to distract a son who….is my HEROOOOOOOO! He was the toughest thing I ever did see, I am so stinkin' proud of him I can hardly stand it! Oh, he not only is getting ice cream when he isn't numb anymore but he is going to get ice cream, mashed potatoes, yogurt, whatever he wants soft whenever he wants for the next week!
I went into this day fasting and praying over a very sick bro inlaw, and I am so grateful it happened on a day where I was already feeling quite vulnerably close to my Jesus. There was a point when the doc wanted to take a break, I should say, give my baby a break, and I just wanted every one to LEAVE him and me alone for a moment so that I could get down to business with our Lord…Jor said he had to go potty, YES! I took that kid in there and I prayed up a storm for him….it felt so good to get it out and aloud!!! At the end when that root finally came out I couldn't help it, it was just right out, "THANK YOU JESUS, THANK YOU, no holding back!!!"
I am thankful today:
32. friendship and advice
33. Jesus the Great Physician
34. holding back of tears from a Momma who is concerned
35. family in unity over prayer
36. answers to prayer
37. hope in prayer
38. relief when praying
39. urgency to pray
40. a doc who cares
41. a strong baby
42. a full day of unexpectedness
43. brothers who are concerned for their brother
44. a dad who feels pride with concern over his baby's toughness
45. a brother inlaw who is a great husband and daddy
46. a pregnant sister who is 'tougher than nails' as dad would say
47. A God who listens
48. A God who sees the tears
49. a messy house, I suppose it will be this way until I do something about it?
50. a friend and her wisdom
51. a call to Jor from a cousin who Jordan thinks is IT! To build him up and be so sweet.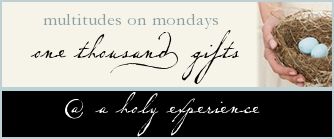 I